The first time I tasted walnut bread was in my test kitchen. I liked it but did not pursue making it. One day during the quarantine, my aunt Bernadette asked me if I could make some walnut bread for her. By now you should realize that I always like a challenge and so I researched and came out with this. This is so good that I make it my lunch with just butter. The walnuts in the dough react with the gluten in the dough and color the dough a pale purple. Beautiful!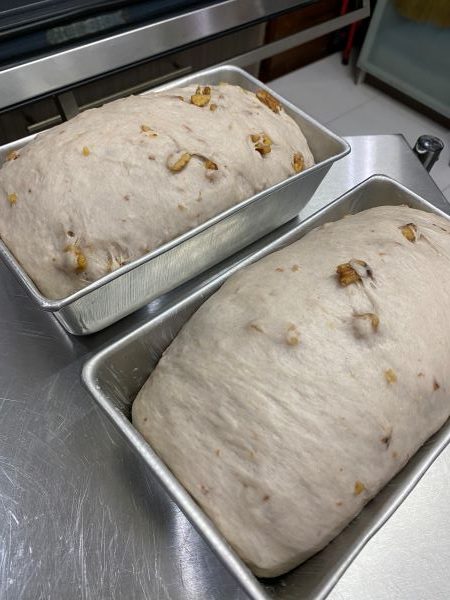 Walnut Bread
Good homemade bread naturally tinted purple due to the reaction of the walnuts with the gluten in the dough.
Ingredients
460 grams warm water

1 tablespoon (11 grams) active dry yeast

½ cup (170 grams) honey

¼ cup (50 grams) olive oil or walnut oil

1 ½ teaspoon salt

5 grams bread improver (optional)

300 grams bread flour

420 grams all-purpose flourished

1 cups (100 grams) walnut pieces - toasted until lightly browned - chop into ¼ pieces (the high end is using 2 cups walnuts)
Instructions
1
Dissolve the yeast in the water.
2
Add ½ cup (60 grams) of all-purpose flour and let sit for 10 minutes to give the yeast a change to get going.
3
Stir in the honey, oil, and salt.
4
Add the flour, a cup at a time, until the dough has formed a shaggy mass.
6
Turn the dough out onto a lightly floured counter.
7
Knead the dough, add flour as necessary, to form a smooth and satiny ball.
8
Put the dough into a bowl and drizzle with a tablespoon of oil; turn the dough to coat it with the oil.
9
Cover the bowl with plastic wrap or a damp towel.
10
Let the dough rise until it is puffy, about 1 ½ hours.
11
Divide the dough in half and form each half into a ball or shape into two loaves and place into two loaf pans that have been greased.
12
Place balls on a baking sheet that has been line with parchment or greased and sprinkled with cornmeal or semolina flour.
13
Cover the loaves with damp towels and let rise until swollen. This will take 30-45 minutes.
14
Preheat the oven to 350ºF (178ºC); the loaves will burn if the oven is too hot.
15
Put a pan with water, in the bottom part of the oven, for moistening the bread.
16
Sprinkle flour on top of the loaves, and use a serrated knife to slash a cross in the top of each loaf about 1-inch deep.
17
Bake the loaves for 35-45 minutes, until they are well browned and sound hollow when thumped on the bottom; their internal temperature will measure 190ºF (87ºC) on an instant read thermometer.
18
Put the loaves on a rack to cool, and let sit for at least 20 minutes before cutting.