Many moons ago, I used to have a small coffee shop called "The Mercury Carousel" on Padre Faura street, Ermita, Manila. The "Tocino Tidbits" was a popular dish. I cut up the meat into bite sized pieces so that I could weigh it properly (think costing) and saves one from cutting it up. I know that it's more tedious but then I was also concerned about keeping my costs down. I served it with fried egg and garlic fried rice. Yummy!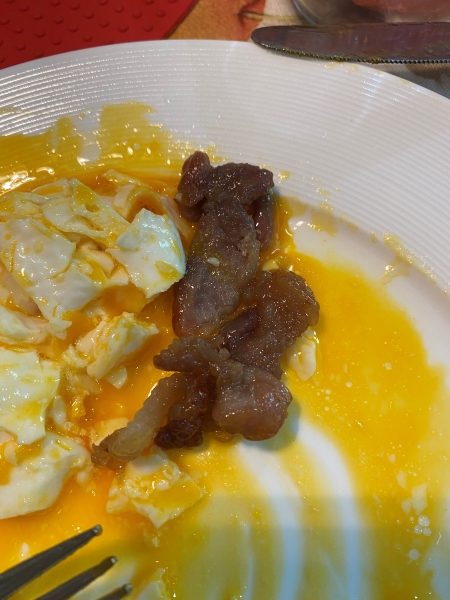 Tocino Tidbits Kapampangan Style (Sweet Cured Pork)
Tocino is sweet cured pork. Typically fried, serve this for breakfast with fried egg and garlic rice.
Ingredients
1 kilo thinly sliced pork shoulder (kasim) with fat, skin removed - you need some fat to make it tender

1 cup (200 grams) brown sugar

2 tablespoons coarse salt or less

⅛ teaspoon salt peter (salitre) - optional or curing salt. Use 1/2 teaspoon Prague powder as another choice for salt peter.

½ teaspoon MSG (vetsin) - optional

1 tablespoon soy sauce
Instructions
1
Place pork shoulder in freezer for 3 to 4 hours.
2
Using an electric slicer, slice pork shoulder, against the grain, into fillets then into 0.5 cm or ¼-inch pieces.
3
Place other ingredients in a large bowl.
4
Mix in pork and massage the pork in the mixture every half hour for 4 to 6 hours. (Use rubber gloves when doing this.)
5
Leave to marinate for 48 hours in refrigerator.
6
Pack into serving sizes of 100 grams (personal size) or 250 grams or 500 grams and freeze.
Cooking the Tocino Tidbits
7
Before cooking, thaw in refrigerator.
8
To cook, place ¼ cup cooking oil in frying pan, and heat to 160ºC or 320ºF.
9
Fry for 4 to 5 minutes, by tossing around in the pan till light golden brown.
10
Remove from pan and drain.
Notes
The secret to a good tocino is massaging the meat properly so that the pork thoroughly absorbs the marinade.
The commercial variety is loaded with liquid and really shrinks when you cook it. This one hardly shrinks and is tender.
The other secret is using pork shoulder (kasim); that part is more tender than the butt (pigue).