The Philippines has been greatly influenced by Chinese cooking since the time of Chinese trading with the Philippines centuries ago. In fact many Filipinos are partly Chinese; case in point, I am partly Chinese.
Siomai or steamed pork dumpling is Chinese in origin. My version has a slight twist: the exchange of rice in place of wonton wrapper. The reason for this exchange is that sometimes the wonton wrapper gets soggy and looks wilted; whereas rice makes the Siomai look always fresh.
I remember tasting my first siomai when I was a grade schooler at the Assumption Convent in Manila. The nuns sold these dumplings bought from the famous "Ma Mon Luk" restaurant during the school fairs.
Siomai makes great merienda fare. It is also good for cocktails or as a main dish.
Full recipe below but let me share with you some photos when I last made siomai.
The original version of this recipe that uses wonton wrappers appears in my book "The Secret Is in the Sauce" which you can purchase here.
This recipe also appears in masarap.ph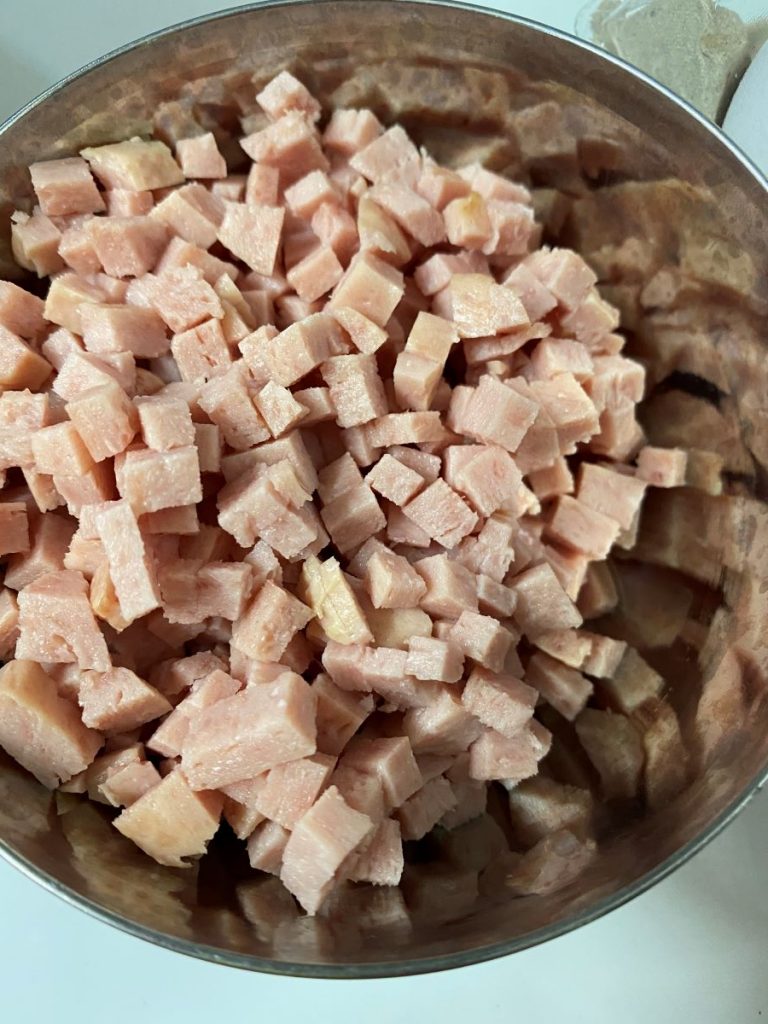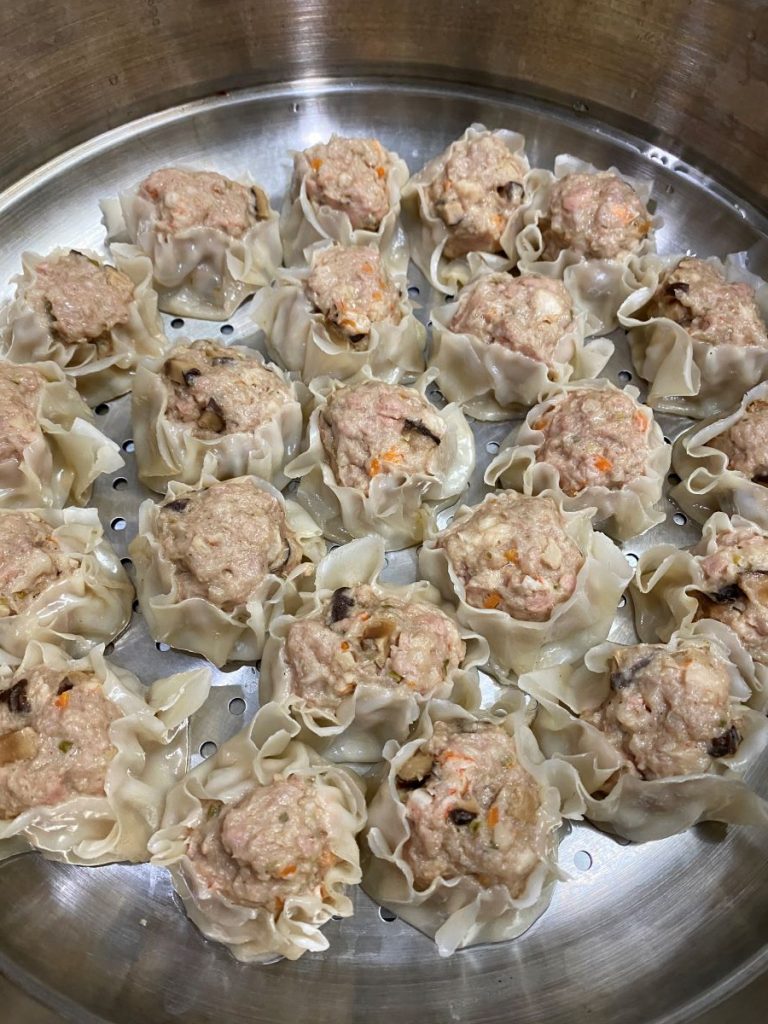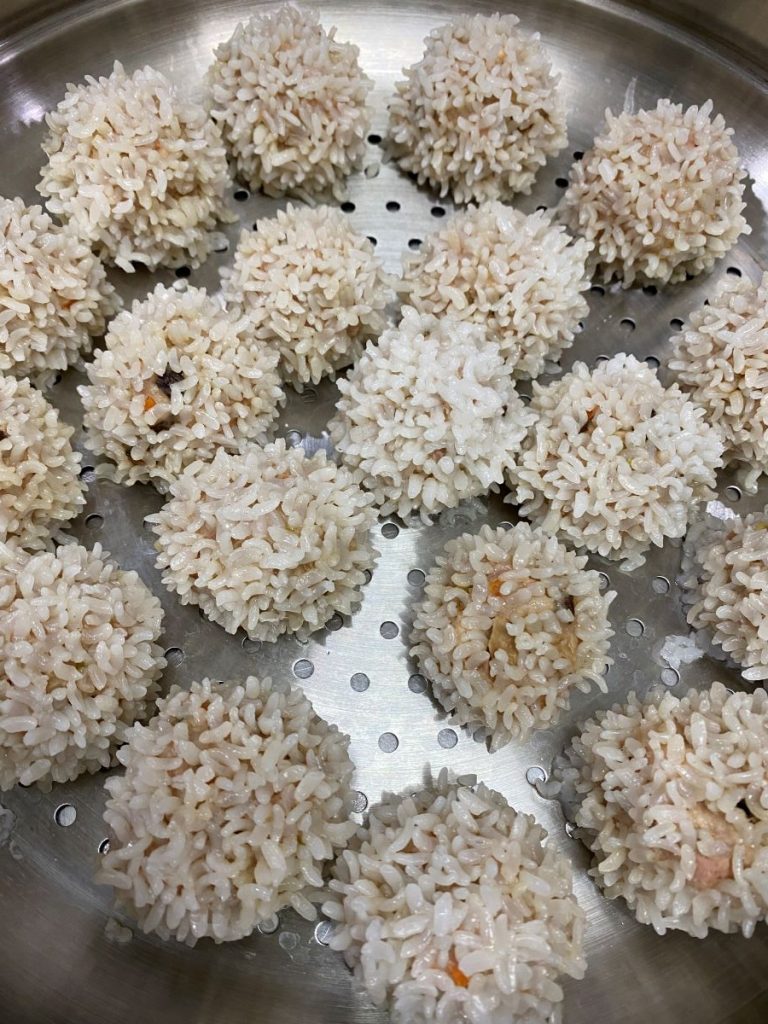 Siomai (Steamed Pork and Shrimp Dumplings)
Siomai makes great merienda fare. It is also good for cocktails or as a main dish. This version uses rice instead of wonton wrappers.
Ingredients
500 grams ground pork

250 grams shrimps – steamed, peeled and cut into tiny cubes

1/2 cup carrots – peeled, cut into tiny cubes 1/8-inch size

3/4 cup water chestnuts or singkamas – cut into tiny cubes (water chestnuts preferred)

1/4 cup spring onions – finely chopped

1/2 cup pork luncheon meat (Spam) or ham – cut into tiny cubes

3 pieces dried black Chinese mushrooms – soaked in hot water till soft, drained, stems removed, and cut into tiny pieces or 1/2 cup finely chopped fresh Shiitake mushrooms

1 teaspoon finely grated ginger

1 tablespoon sea salt

1 tablespoon sesame oil

3 tablespoons oyster sauce

2 tablespoons soy sauce

3 egg whites

1 teaspoon freshly ground black pepper

1 cup (125 grams) cornstarch (corn flour)

1 cup (185 grams) uncooked rice – soaked in water for 1 hour and drained or 50 pieces wonton wrappers

1/2 cup frozen green peas (optional for decoration)

Dipping Sauce

1/2 cup soy sauce

1 tablespoon calamansi or lemon juice

1/2 teaspoon hot sauce (Tabasco or your preferred chili sauce)

1/4 teaspoon sesame oil

1 tablespoon sugar
Instructions
1
Wear plastic gloves and, with hands, combine all the ingredients except rice or wrapper and peas, until well blended.
2
With hands, shape mixture into 1 1/2-inch balls and roll in rice until the whole ball is covered with rice.
3
Set aside on a tray until all the balls have been rolled.
4
Optional: Place a pea on top of each ball as decoration.
5
Arrange the dumplings in single layer on an oiled basket steamer or line steamer basket with "katcha" (muslin cloth).
6
Have two inches of water in the bottom layer of steamer and bring to a boil.
7
Place the steamer basket on top and steam dumplings for 20 to 30 minutes or until the dumplings and rice are cooked.
8
Serve with the dipping sauce.
9
Mix all ingredients in a small bowl to serve on the side.
Notes
Wrap the steamer cover with 'katcha' so it catches the steam and prevents water dripping back to the dumplings. This will keep the siomai from getting soggy specially if you are using wonton wrappers.
Alternative and fun way of serving the sauce is to use a clean, unused spray bottle for an even coating over the siomai.
Page updated on February 20, 2020 with photos.