I first learned how to eat Tempura when Kimpura Restaurant first opened its doors way back in the 1980s. It was a special treat to eat in this Japanese restaurant.
One of the dishes I really liked was the Kakiage. Back then the vegetables in this recipe were so delicately sliced; truly julienne at it's finest. But I suppose, delicateness was too labor intensive and the slicing of the Kakiage was relegated to the machine; sorry but it has become lousy! Since I could no longer eat this favorite of mine, I searched high and low to find a batter that would do justice to this favorite of mine. Here it is; a real treasure of a recipe but mind you, it has it's price that you must pay – vodka!
Do not omit the vodka; it is critical for a crisp coating. Be sure to begin mixing the batter when the oil reaches 385ºF (194ºC) (the final temperature should be 400ºF (204ºC). It is important to maintain a high oil temperature throughout cooking.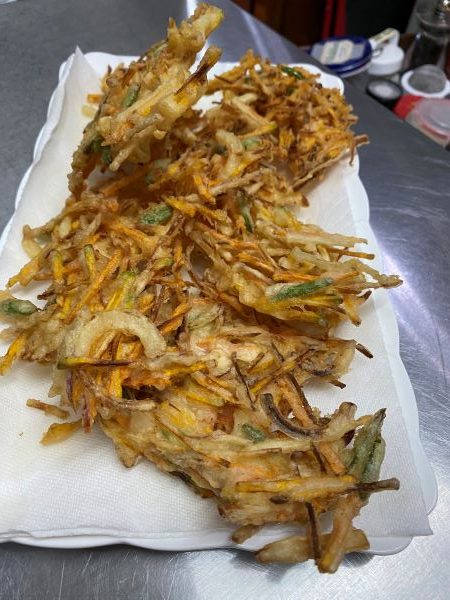 Tempura Batter for Shrimp and Kakiage
The best tempura batter recipe with a special ingredients to make it crispy - vodka and soda water!
Ingredients
10 - 12 cups vegetable oil (peanut oil)

250 to 700 grams jumbo shrimps - remove head of shrimp; devein shrimp but leave the tail and part of shell near tail; slit in three points the underside of shrimp (near the head, middle and near the tail)

all-purpose flour for dusting

Kakiage vegetables:

1 small carrot

1 onion

1 small sweet potato

25 grams of French beans

1 small segment of squash

All these vegetables must be peeled and sliced with a knife into toothpick-like sizes; there is no short cut (do not grate).

You can also use lotus root, burdock, spring onions, snow peas

Tempura Batter:

1 ½ cups (210 grams) all-purpose flour

½ cup (70 grams) cornstarch

1 cup vodka

1 large egg

1 cup seltzer (soda) water

1 teaspoon kosher salt

Ginger-Soy Dipping Sauce:

¼ cup soy sauce

3 tablespoons mirin

1 teaspoon sugar

1 teaspoon toasted sesame oil

1 scallion - thinly sliced

2 teaspoons grated fresh ginger

2 teaspoons grated fresh radish
Instructions
1
Adjust oven rack to upper-middle position and heat oven to 200ºF (93ºC).
2
Set a wire rack on a rimmed baking sheet.
3
Heat oil in wok over medium-low heat to 385ºF (196ºC).
4
Whisk flour and cornstarch together in large bowl.
5
Whisk vodka and egg together in second large bowl.
6
Whisk seltzer water into egg mixture.
7
Pour liquid mixture into bowl with flour mixture and whisk gently until just combined (it is okay if small lumps remain).
Cooking the Shrimp Tempura
8
VERY lightly dust the shrimps with all-purpose flour before dipping in the batter
9
Submerge 4 to 5 shrimps in batter; best to work in batches.
10
Using tongs, remove shrimp from batter 1 at a time, allowing excess batter to drip off, and carefully place in oil (temperature should now be 400ºF (204ºC).
11
Fry, stirring with chopstick or wooden skewer to prevent sticking, until light brown, 2 minutes.
12
Using slotted spoon, transfer shrimp to paper towel-lined plate.
13
Once paper towels absorb excess oil, place shrimp on prepared wire rack and place in oven while you work on the rest of the shrimps.
14
Return oil to 400º(204ºC), about 4 minutes, and repeat with remaining shrimp.
15
With the Kakiage, place the sliced vegetables in a bowl.
16
Place a small amount of the batter; just enough to very lightly coat the vegetables.
17
Get a small saucer; place about ⅓ cup of the mixture and spread it out as flat as you can.
18
When ready to fry, carefully slide into the oil.
19
Cook each side about 30 seconds.
20
Remove from the oil and drain on paper towel.
21
Whisk all ingredients together in a medium bowl.
22
Provide individual dipping sauce bowls when serving.