I first became aware of the red velvet cake in the movie "Steel Magnolias"; a story of family and friendship. In the movie, the aunt of Sally Field, baked a red velvet cake in the shape of an 'armadillo', a cake and form, the aunt was well known for. Ever since then I would wonder what this red cake was all about until I found a box of Duncan Hines Red Velvet Cake, some 15- 20 years later.
I was back in Manila for a visit and the friends of Marise were all coming for dinner and I was wondering what to make for desert. Since I wanted something easy to prepare for desert, I thought that it would be a good idea to bake from the box. Little did I expect such a resounding clamor for 'more'!
In Sydney, the Red Velvet cake mix is not available and I wanted the children and grandchildren to taste it so I decided to look it up. Little did I realize that I had a downloaded recipe for Red Velvet since 1995 among those stacks of papers that fill up my drawers.
There is another thing that I should mention that strikes me; because it's really a chocolate cake with lots of red food color, when you get to eat it, it doesn't dawn on you that it's a chocolate cake because it's color red. The color red plays tricks on your mind and makes you believe that it's a cake all of it's own. Well, so much for tricks and association!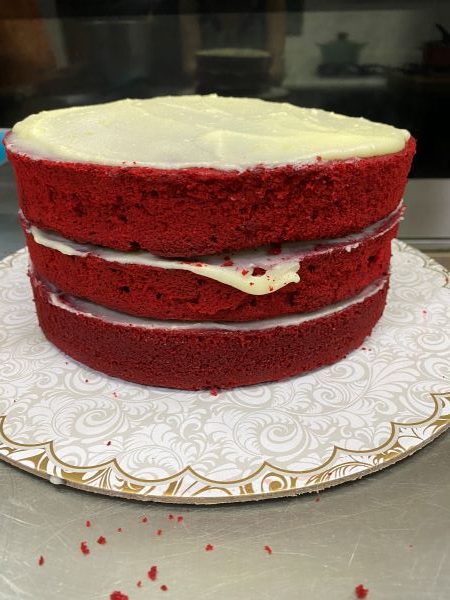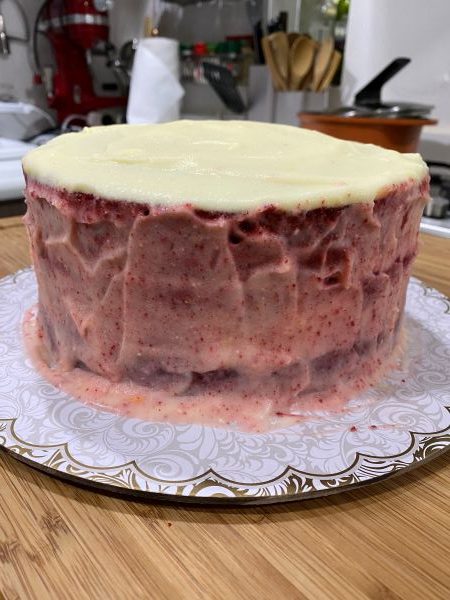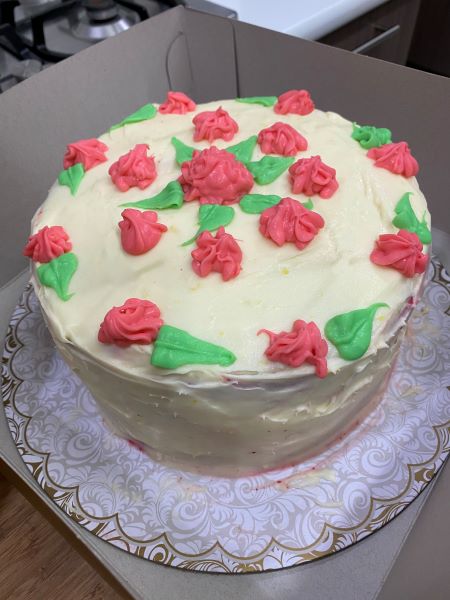 Lovers Cake or Red Velvet Cake
A delectable red-colored chocolate cake covered with a zesty cream cheese frosting.
Ingredients
120 grams semi-sweet baking chocolate squares or chips

½ cup red food coloring (2 small bottles)

350 grams cake flour

1 teaspoon baking soda

½ teaspoon fine salt

1 teaspoon gelatin

1 cup (225 grams) unsalted butter, softened

2 cups (400 grams) white sugar

4 whole eggs – separated – ½ cup egg whites / 1/3 cup egg yolks

1 teaspoon vanilla extract – mix with egg yolks

1 cup (250 ml) sour cream

Cream cheese frosting:

250 grams (1 cup) cream cheese – softened

¼ cup (55 grams) butter – softened

2 cups confectioners' (icing sugar) sugar / you may add more if you want it sweeter and harder

1 teaspoon grated lemon rind (optional)

few drops of red or yellow food color (optional)
Instructions
1
Preheat oven to 180°F (350°C)
2
Prepare three 8-9 inch round tins – grease and flour
3
In a double boiler, place red food color and sprinkle gelatine over liquid and let gelatin soften for 10 minutes.
4
Place chocolate pieces with red food color.
5
Using the double boiler (a metal bowl over a sauce pan with little water) over very low fire, slowly melt chocolate pieces with red food color. Do not allow the water in saucepan to simmer. When three fourths of the chocolate have melted remove from fire and continue stirring till all the chocolate have melted. Set aside but keep warm.
6
Sift flour, baking soda and salt together. Set aside.
7
In a mixing bowl, cream butter and 350 grams of sugar until light and fluffy. Use beater attachment.
8
Slowly add the egg yolk/vanilla mixture, followed by the melted chocolate.
9
Fold in the flour mixture alternately with sour cream, beginning and ending with flour mixture.
10
In a mixing bowl, beat egg white till bubbly and slowly add 50 grams of the sugar.
11
Beat egg white till it forms stiff but not dry.
12
Add ½ cup of the butter mixture to egg whites and fold gently.
13
Fold gently the rest of the egg whites to the butter mixture.
14
Divide into 3 portions (about 525 - 550 grams) and pour into three 8-9-inch round baking pans that have been greased and floured.
15
Bake for 25 to 30 minutes or till the toothpick test comes out clean.
16
Remove from oven and cool in pan for 10 minutes.
17
Invert onto wire racks to cool completely.
18
Spread cream cheese frosting between the layers and over the top and side of cake.
19
Using a paddle on the beater, beat cream cheese till light and fluffy.
20
Add the softened butter and continue beating till well blended.
21
Beat in the icing/confectioners' sugar till smooth.
22
Add lemon rind and color if desired.
Notes
You may also make cupcakes (1/3 cup per patty pan) or pipe them on small macaroon size bites.