One of my favorite comfort food is Guinataang Puso ng Saging. Whenever I would go overseas for a holiday and call home that I am coming back, my daughter Marise would always ask, "What would you like to eat when you come home from the airport?" One of the dishes I would say is, "Guinataang puso ng saging!" She would then ask our nanny for my foster children, Carol Laoreno, to cook it for me.
Since I always had someone to cook it for me, it took some time for me to cook it for myself and who comes to the rescue but my other house-helper, none other than Carol's aunt, Grace Laoreno Valmoria.  Grace is younger than Carol but her blood is older!  It was Grace who showed me how to make this favorite of mine.
And here I am showing it to you.
Let's start with the tricky part of the heart of the banana. Here's how to prepare it:
To start with, this procedure is for the red variety of banana hearts.
Gt a bowl (glass or plastic is advisable) and place 2 tablespoons of salt in it.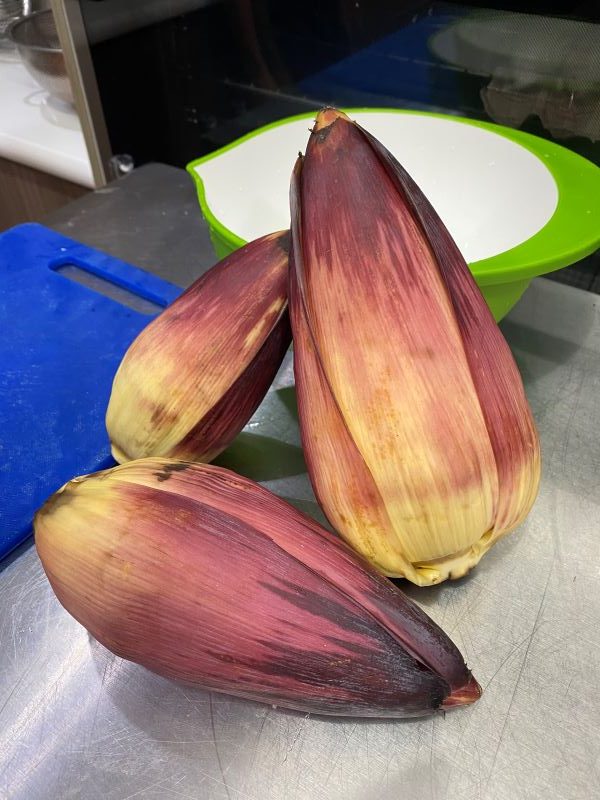 Oil your knife and hands to prevent the sap from sticking.
Starting from the pointed tip of the heart, slice that tip off; about 1 inch.
Then start slicing the banana heart in parts. You will slice it very similarly to how one slices a cabbage for coleslaw – thin slices, going around the heart. Place the banana heart slices into the bowl with salt and just mix as you go along.
Then you will come to a part where you will see the core or stem of the banana heart; dig this out; this is tough and discard. (Use for your compost).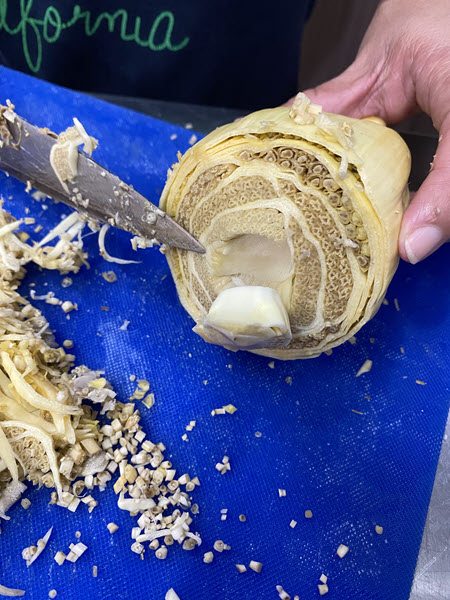 Most likely, you will only use ½ half of the heart because as you get nearer to the bottom part of the heart, the heart becomes tougher. You must stop your slicing when slicing becomes tougher.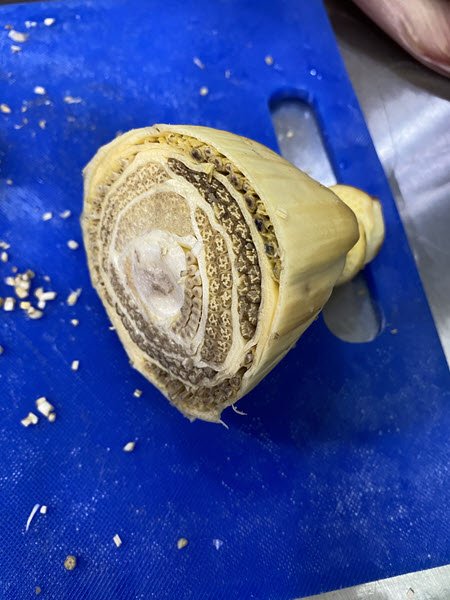 Now that you have collected the sliced banana heart in the bowl, mix it well so that most of the salt has been scattered. Leave it soaking in salt for about 15 minutes.
Now, boil some water in a saucepan, enough that it will submerge the banana heart slices. Once the water is boiling, place the sliced banana hearts in the saucepan and simmer for about 20 minutes. This helps in removing the salt and tenderizing the heart.
When time is up, pour out into a colander and rinse with water. Then squeeze the bejesus out of the boiled banana heart. Set aside. Now you are ready to proceed.
Guinataang Puso ng Saging (Banana Heart in Coconut Milk)
Ingredients
1 banana heart - a full grown one or two smaller ones

2 tablespoons salt

¼ cup cooking oil

100 grams or 1 strip of pork belly - boiled till tender and cut into ⅛ inch strips

1 tablespoon crushed garlic

1 cup of chopped onions

2 tablespoons of bagoong alamang (fermented fish paste)

4 cups of coconut milk from 2 coconuts

1 lady finger chili - de-seed, slice into tiny strips

Salt and pepper to taste
Instructions
1
Prepare banana hearts as instructed above.
2
In a large saucepan that can hold about 8 cups, over medium heat, pour in the oil and warm, then add the garlic and onions.
3
Sauté the garlic and onion for about 4 minutes.
4
Then add the bagoong and stir for a minute.
5
Then add the sliced, cooked, pork and continue to sauté for about 3 minutes.
6
Now pour in the coconut milk and simmer for about 2 minutes.
7
Add the squeezed banana heart, the chili, and cover.
8
Simmer for about 30 minutes or till the banana heart is very tender.
9
You must occasionally stir the pot to prevent the liquid from sticking to the bottom.
10
Adjust the taste to your liking. You can add fish sauce, black pepper, and more bagoong if you wish.
Notes
Serve with hot rice.